One blockchain project I have been following with interest recently is Unstoppable Domains, a San Francisco-based company building web domains on blockchains.
In essence, the company claims you can create a web domain that can never be censored and receive a bunch of different cryptocurrencies using your unstoppable domain name.
However, it seems that the Unstoppable Domains team is able to block buyers from purchasing certain domains if it believes they are connected to other individuals or businesses.
So if Unstoppable Domains can block buyers from buying certain domains, how is the service unstoppable?
Sunrise period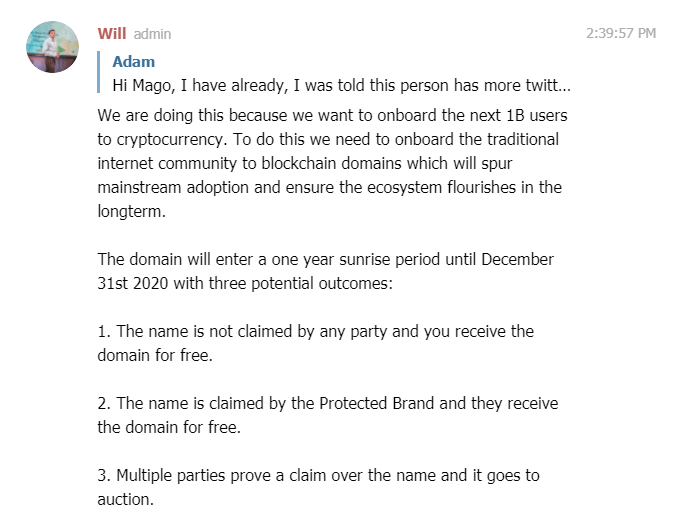 Above you can see a comment taken from Unstoppable Domains' public Telegram channel.
The Unstoppable Domains team sold a bunch of ZIL domains during the initial phase of the project. The team then decided to carry out another domain sale, this time with domains ending in ".crypto".
Essentially, if you held a ZIL domain, you would receive the same .crypto domain for free. But there was a catch with the new .crypto domains. The team decided to implement the sunrise period described above.
If some of the .zil names you purchased "belonged" to a business or influencer, the team would award you with extra store credit (for each $1 spent you would get $2). You could then use said credits to purchase other .crypto domains that do not belong to the list of domains inaccessible to the general population.
With the sunrise period in place, some addresses could be claimed by other people. This means there's a chance you might lose a domain that should belong to you.
How does that work? The Unstoppable Domains team has created an API that checks names in order to see if they belong to a known business or person.
That means the "uncensorable" deal is off, basically.
Stoppable domains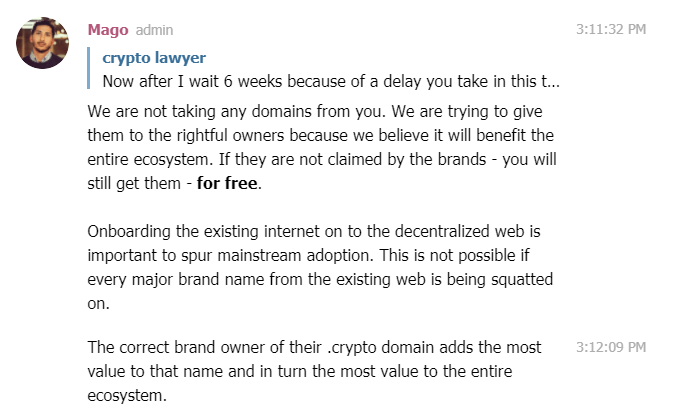 I personally don't think this type of behaviour will work in the long term.
For example, Ethereum domain names, ENS, are already working and we can use them privately. This means if I share my Ethereum domain name, anyone can make a payment that will reach me. In addition, when you buy a .eth domain, there is no chance you will lose it.
Ethereum seems to be making serious improvements to its domain service. For instance, a great deal of ETH supporters already use their name.eth domains to receive funds. In addition, there are talks of adding more tokens and NFTs to the ENS.
Hopefully, the Unstoppable Domains team will listen to the community and work to give all parties the ability to buy all domains.
Disclaimer: The views in this article are the views of the author. It represents my personal opinion and should not be attributed to Coin Rivet. 
Disclaimer: The views and opinions expressed by the author should not be considered as financial advice. We do not give advice on financial products.