One of the most interesting Bitcoin hard forks is Bitcoin Cash (BCH).
BCH split from Bitcoin in 2017 and aims to solve the issue of scaling through the use of bigger blocks, which it argues allows for much lower fees.
Let's take a closer look at Bitcoin Cash and how to mine the popular cryptocurrency.
What is Bitcoin Cash?
In July 2017, some members of the Bitcoin community, including the early evangelist Roger Ver, felt that adopting BIP 91 without increasing the block-size limit favored people who wanted to treat Bitcoin as a digital investment rather than as a transactional currency.
The last straw was the implementation of the SegWit soft fork, which removed witnessing data from block headers. As a result, investors, entrepreneurs, casual users, and miners (largely based on China) pushed for alternative plans for a split, which created Bitcoin Cash.
According to Ver, as discussed in the exclusive Coin Rivet interview above, people shouldn't ignore the importance of network effects in any monetary system.
He states: "Without a huge network, it is impossible for money to be accepted globally."
Although further competition certainly weakens the original network, when it survives, it makes the entire ecosystem better as people have more choice.
Therefore, Bitcoin Cash aims to be a lighter and cheaper version of the current Bitcoin protocol in order to keep fees at bay.
Mining Bitcoin Cash: Requirements
As with Bitcoin, there are a few requirements to mine BCH.
Essentially, you'll need the following:
24/7 internet connection with at least 1MB/s speed.
A Bitcoin Cash wallet to receive your mined coins.
Simple stuff, right?
The mining hardware will represent the biggest piece of investment. ASIC miners range anywhere from less than $1,000 for older miners to over $2,000 for a brand new S17 Antminer.
You'll have to pay attention to the cost and also to the amount of energy it consumes per Bitcoin Cash produced.
For reference, you can go to this page and check the profitability of any miner and coin.
You should always keep in mind that mining is a business and, as such, it's important to remember that other factors may affect profitability, such as current price and volume.
Mining Bitcoin Cash: Software and pools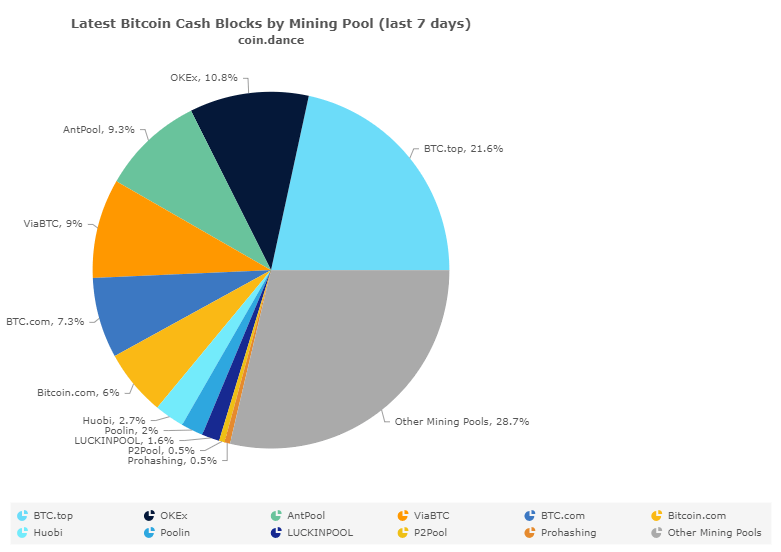 There are many alternative software choices out there that can be used for mining Bitcoin Cash, but perhaps the two most popular ones are CGminer and BFGminer. These are command-line programs that enable users to get involved with BCH mining.
If a command-line interface is too complicated for you, then you can use EasyMiner instead, which acts as a wrapper for CGminer or BFGminer software and can be used for both solo and pooled mining.
As mentioned above, your choice of software will be influenced by your hardware, so it is recommended that you search for programmes compatible with the miner that you own. Moreover, if you're mining in a pool, chances are they will have their own dedicated software.
Currently, the largest and most successful Bitcoin Cash mining pools are:
BTC.top (21.6%)
OKEx (10.8%)
Antpool (9.3%)
ViaBTC (9%)
Disclaimer: The views and opinions expressed by the author should not be considered as financial advice. We do not give advice on financial products.