Bitcoin has made a 130% gain so far this year. The stock markets are down amidst the US-China trade war, which usually spurs investors toward safe-haven assets.
But people aren't buying gold. Institutions are leaping on the blockchain bandwagon one after another, with Bitcoin trading at a massive 37% premium on Grayscale. Facebook is also entering the space, as are JP Morgan and Fidelity… the list of household names with Bitcoin FOMO is getting longer.
So why aren't the crowds going wild?
When is Bitcoin FOMO going to kick in?
Around the time of the industry's most important conference of the year – Consensus – earlier this month, Bitcoin shot up by over $1,000 overnight.
eBay announced (and later retracted) that it would be accepting cryptocurrency payments. Microsoft came out with its plans to build on the Bitcoin blockchain. North American food chain Whole Foods also joined the revolution and the price started to soar.
Yet despite what historically causes a massive "gold rush" of retail investors suffering from Bitcoin FOMO, this rally is far from retail-driven. In fact, it appears to be the institutions that are scared of missing out.
Grayscale Bitcoin Trust accumulated 11,236 bitcoin in April alone.

Currently 54,000 bitcoin are mined per month.

Right now, they are buying up 21% of the new supply of bitcoin.

In a year, the halvening will double that number to 42% of the supply.

Institutions are FOMOing.

— Rhythm (@Rhythmtrader) May 29, 2019
With the Bitcoin halvening happening next year, Bitcoin is becoming more scarce and more valuable. More of it will be owned by institutions.
How can you tell when retail investors are gripped by Bitcoin FOMO?
That might sound like a stupid question. After all, the price would just go up, right? Well, yes. However, there are some other indicators that can alert us to a possible retail buying spree.
Google Trends
What do most people do when they want to find out more about something? They turn to Google for their answer. Of course, Google may not be the only search engine around the world, with Yandex, Baidu, and a plethora of privacy browsers. But when it comes to market leadership, Google still takes the cake with 88.47% of the market share in April 2019.
So, with all the action going on in the markets right now, you would imagine that searches for Bitcoin would be going through the roof. Not so much. In fact, take a look at the information below from Google Trends and you'll see that interest in Bitcoin is hovering around the same level as it was in May 2017, way before Bitcoin FOMO started in earnest.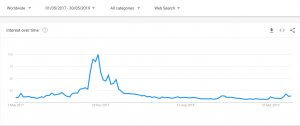 Out of the countries where Bitcoin searches take the lead, the top three are in Africa. That could be attributed to increasing awareness due to African blockchain conferences, and increasing use cases as well. Where legislation strangles businesses trading internationally, it's much easier to send and receive payments in Bitcoin.

Nigerians have seen a massive devaluation of their local currency in recent years. This could also be behind Bitcoin purchases by people trying to shield their savings.
Austria and the Netherlands have recently had major Bitcoin conferences and an outpouring of institutional support that could be driving curiosity. But still… Bitcoin FOMO is not at a significant height anywhere around the world at the moment.
LocalBitcoins trading volume
Another indicator to use is to look at data form LocalBitcoins for each country. Again, this hardly confirms Bitcoin FOMO. Globally, this week has seen a modest rise in Bitcoin purchases, but it's still a far and distant cry from the 2017 Bitcoin mania.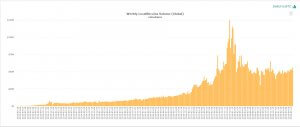 Even in Nigeria, which registers the most Bitcoin searches, purchasing volume on LocalBitcoins has dropped this week.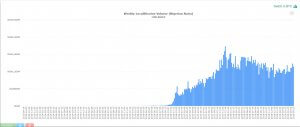 Why is the public so cautious about Bitcoin this time around?
It could be tighter regulation in countries like China and the US. Or maybe greater education and fear of losing funds from hackers. Perhaps many investors were simply burned last time – buying at an all-time high – and are still waiting to recoup their losses.
But the bullish trend looks set to continue
In terms of returns in 2019, Bitcoin has outperformed every other asset and run circles around oil, gold, commodities, and even the S&P 500 and Nasdaq. With more institutional adoption, increasing trade tensions, and the Bitcoin halvening coming up, the bullish trend looks set to continue.
There are some analysts like Tone Vays that are calling for a pullback. However, it appears that the majority of traders and industry experts expect Bitcoin to continue climbing.
Jehan Chu, co-founder and managing partner of Kenetic, recently spoke to Bloomberg and is calling for an all-time high of $30,000 by the end of this year. He is also extremely bullish on Ethereum and Ripple.
So, the question definitely isn't whether Bitcoin FOMO will set in, but when and where it will happen first.
Disclaimer: The views and opinions expressed by the author should not be considered as financial advice. We do not give advice on financial products.