According to Footprint Analytics, the top five GameFi blockchains by users since June were Hive, BSC, WAX, Ronin and Polygon,  which are popular among players for their innovative gameplay and novel concepts.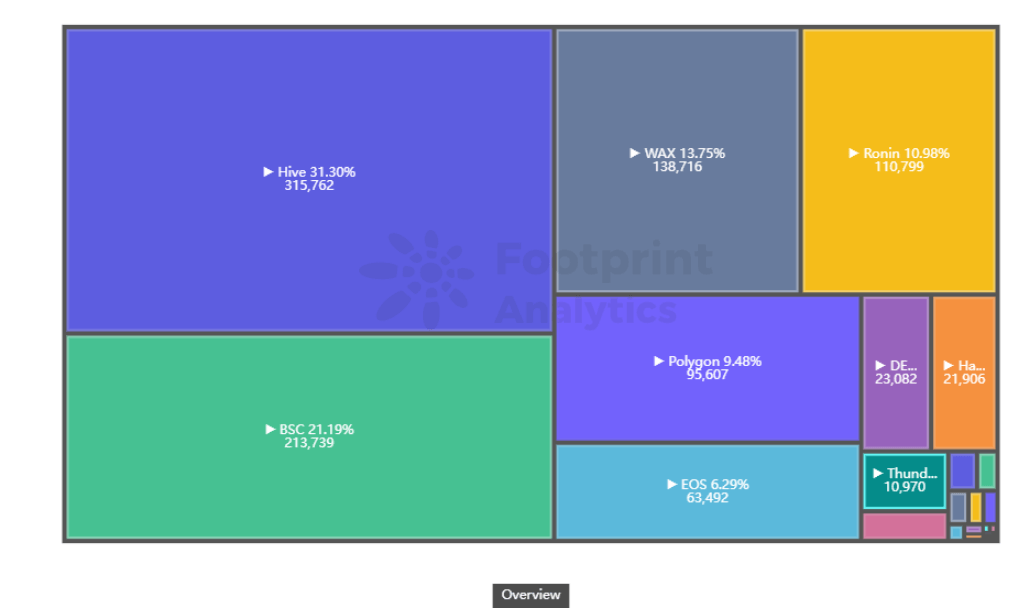 Footprint Analytics – Market Share of GameFi Users
In this article, Footprint Analytics will compare these five chains to see their unique features, gaming ecosystems and potential.
Top five GameFi blockchains: Features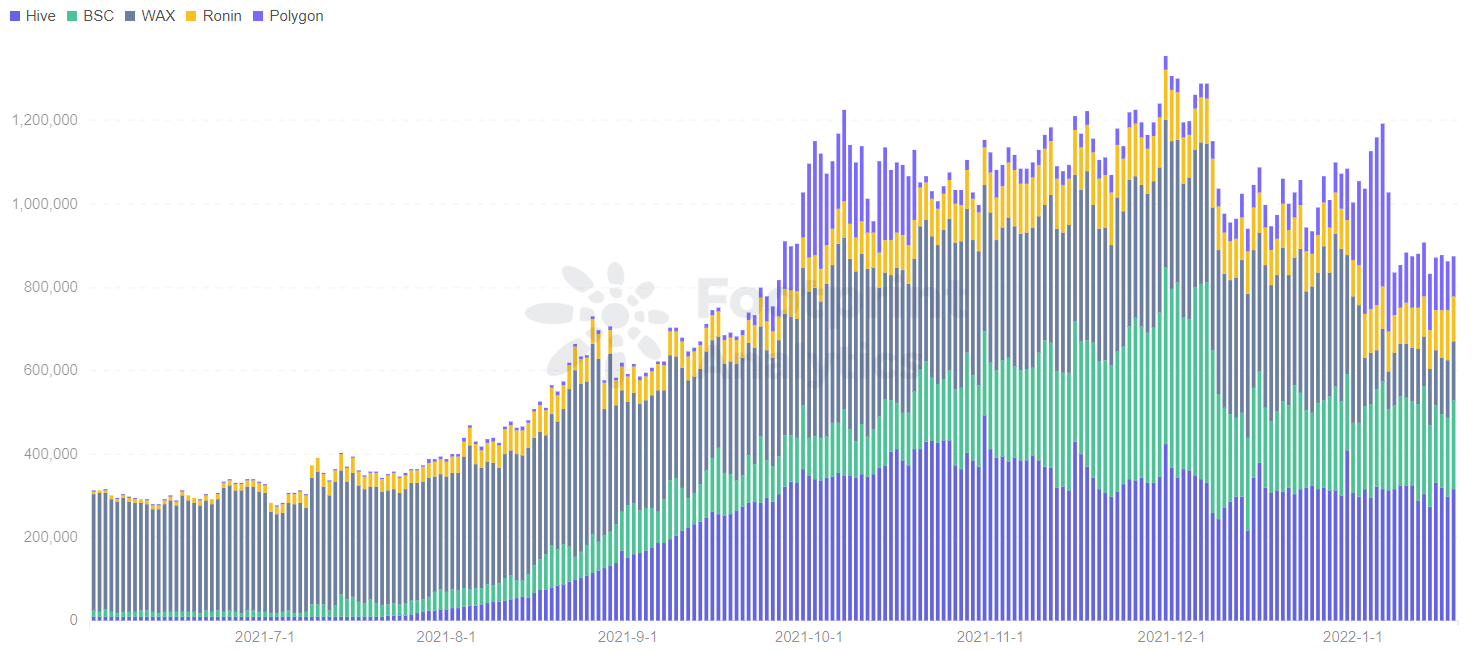 Footprint Analytics – Top five number of GameFi users cross-chain 
Hive
Hive is a fork of the social blockchain Steem. Since its release on March 20, 2020, Hive has eliminated the centralised control of the Steem blockchain for the past four years, making it truly decentralised.
BSC
BSC initially focused on DeFi, but is now prominent in GameFi as well.
In contrast to Hive, WAX, Ronin and Polygon blockchains, BSC is one of the most populated gaming projects, becoming a playground for GameFi dApps.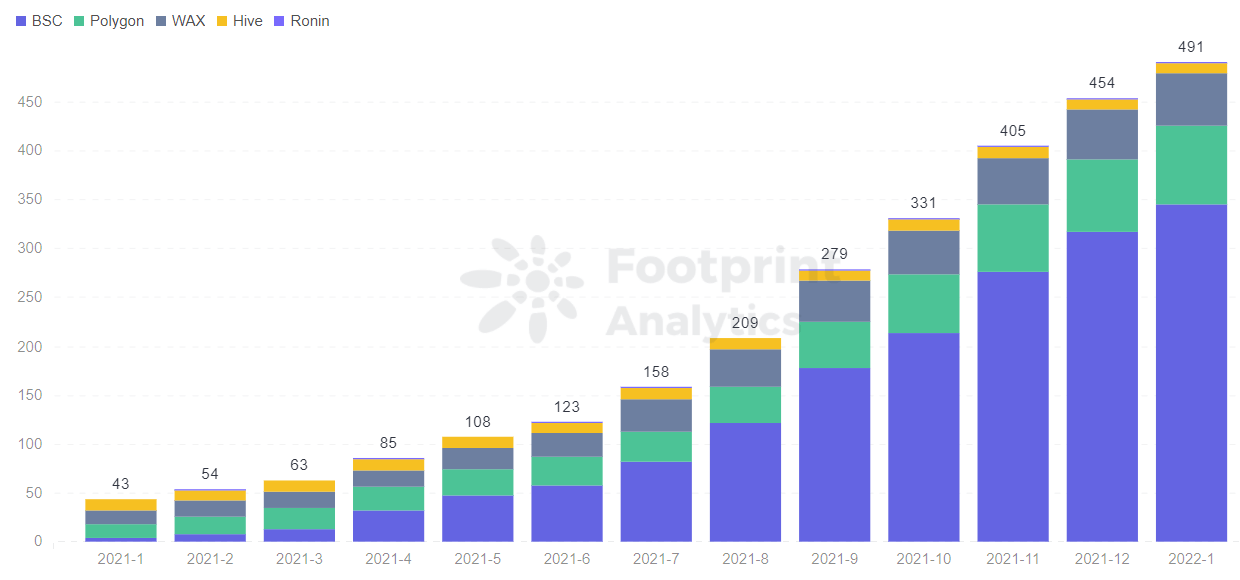 Footprint Analytics – Monthly Number of Games
WAX
WAX is dedicated to serving on-chain NFT virtual asset transactions for developers and general users. 
Based on an EOS adaptation, it follows the DPoS consensus mechanism to support the high throughput required for gaming. 
Ronin
Ronin's ecosystem is relatively simple compared with Hive, BSC, WAX and Polygon, and only serves as the exclusive chain of Axie Infinity. 
Ronin focuses more on the experience of the application and solves the most important problems such as inefficiency and high consumption.
Polygon
Polygon is a Layer 2 scaling solution built on Ethereum with the goal of addressing some of the barriers to dApp adoption (speed, scalability and availability). Polygon has since expended to GameFi and the NFTs.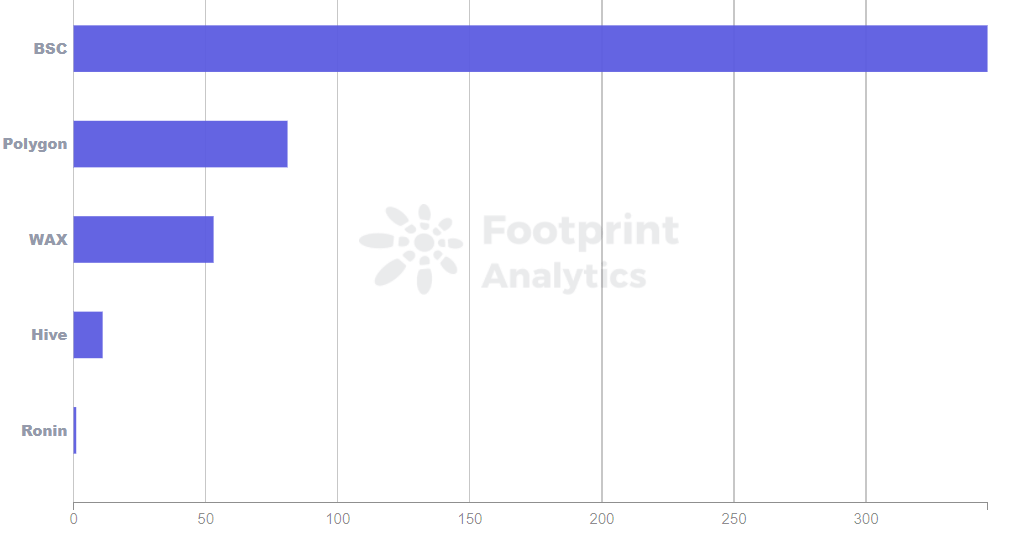 Footprint Analytics – Top 5 Chains – Current Game Totals
Summary
To find better quality GameFi blockchains and gaming projects, the following are some of the main evaluation factors to consider.
Here are the respective features of the top five GameFi chains.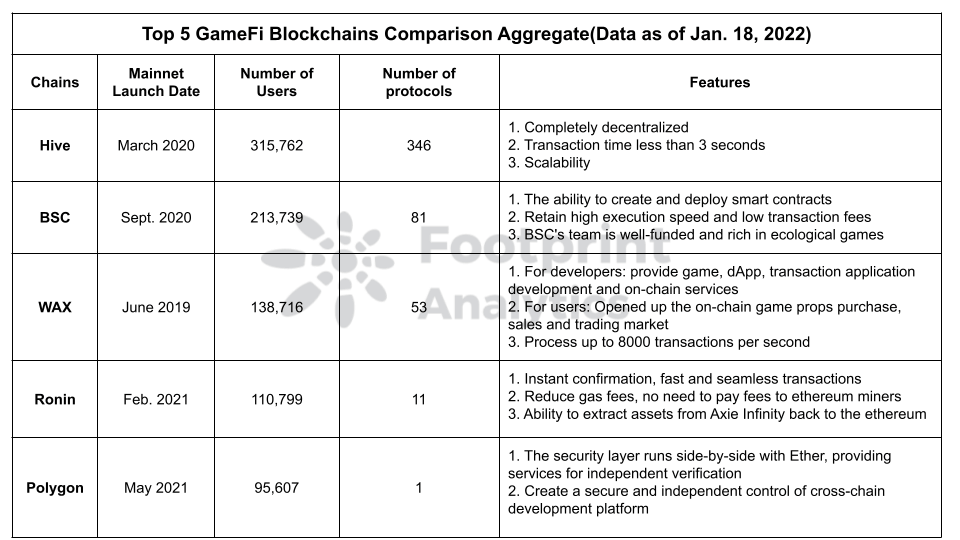 Footprint Analytics – Top 5 GameFi Chains Summary Comparison
What is Footprint Analytics?
Footprint Analytics is an all-in-one analysis platform to visualize blockchain data and discover insights. It cleans and integrates on-chain data so users of any experience level can quickly start researching tokens, projects and protocols. With over a thousand dashboard templates plus a drag-and-drop interface, anyone can build their own customized charts in minutes. Uncover blockchain data and invest smarter with Footprint.  
Footprint Website:  https://www.footprint.network
Discord: https://discord.gg/3HYaR6USM7
Twitter: https://twitter.com/Footprint_DeFi
Telegram: https://t.me/joinchat/4-ocuURAr2thODFh
Youtube: https://www.youtube.com/channel/UCKwZbKyuhWveetGhZcNtSTg 
Disclaimer: The views and opinions expressed by the author should not be considered as financial advice. We do not give advice on financial products.