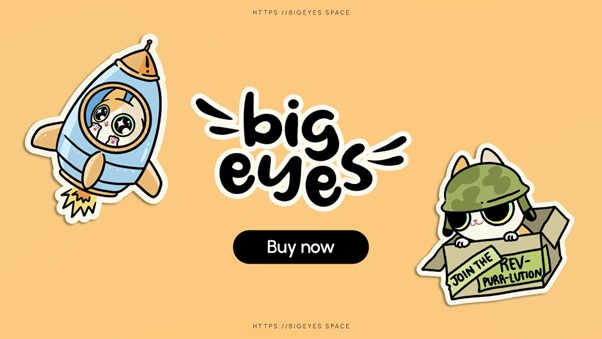 Dogecoin (DOGE) has been a trailblazer in the crypto world, capturing the hearts of many investors as the first and oldest meme token. Following its success, numerous other meme tokens have emerged, each aiming to be the next Dogecoin killer.
One such token that has recently gone viral is Pepe Coin (PEPE). While many investors are asking the question, "What is PepeCoin?", traders are captivated by this new meme token called Big Eyes Coin (BIG). With its ambitious plans for the future, many are questioning if this crypto meme token has what it takes to challenge the dominance of DOGE and PEPE.
Big Eyes Coin: Rewinding the Price Tape to Stage 3 for a Big Win!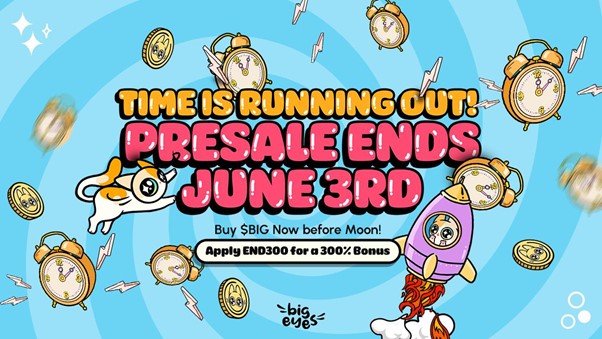 Big Eyes Coin has been a sensation in the crypto market, amassing a staggering $37 million in its presale, demonstrating the immense popularity of this adorable cat-themed coin.
While currently in its stage 13, priced at $0.00053, the team behind Big Eyes Coin made an unexpected and generous decision to revert its price back to $0.00017, the same price it had during Stage 3. This move opens up a remarkable opportunity for those who missed out on the early investment phase to jump on board.
The team announced that its presale will conclude on June 3rd. This means that time is almost running out, and investors who are looking for the next Dogecoin killer should take advantage of this limited-time discount promotion.
Moreover, mark your calendars for June 15th, when Big Eyes Coin will make its highly anticipated debut on Uniswap and other top-tier crypto exchanges. The project also has a lot of developmental plans, such as crypto casinos, NFT clubs, P2E (play-to-earn) games, and so much more for the coin's utility. The window of opportunity is now wide open, so don't miss out on this exciting crypto adventure!
Frog-Themed Coin Leaps For Joy: What Is PepeCoin Price This Month?
PepeCoin has experienced an astonishing surge in price, skyrocketing by nearly 7,000% since its launch on April 16th. This extraordinary growth has propelled its market value to an impressive $1.8 billion as of May 5th. The sudden surge in price has captured the attention of numerous investors, resulting in a significant spike in trading volume.
In just a matter of weeks, PepeCoin's trading volume has surged from $408,000 in the last week of April to a staggering $2.6 billion in the first week of May. This leads to many investors thinking about which token will win in the PEPE vs DOGE battle. Despite its remarkable performance, PepeCoin lacks the practical utility that established tokens like Bitcoin and Ether possess.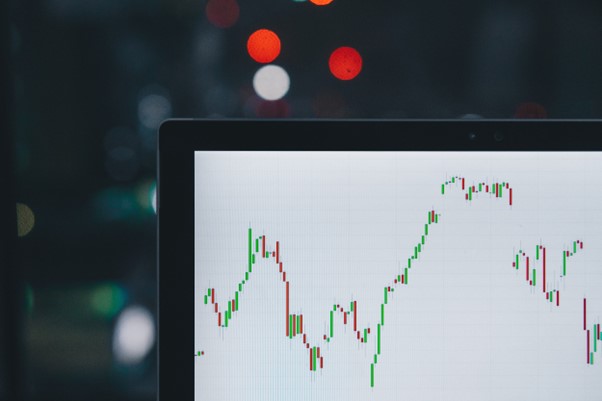 Doge Power: Price Spike Sends Investors Howling
The PEPE vs DOGE battle continues as Dogecoin experiences an unprecedented surge in network activity. With a staggering daily transaction count of 650,000, it has surpassed even Bitcoin and Litecoin in terms of daily transactions. This remarkable feat may be due to the growing interest among investors in minting DRC-20 tokens, a novel type of digital asset on DOGE's network.
While this surge is seen by many crypto communities as an excellent opportunity to test DOGE's scalability, there are concerns about potential network congestion due to the increased activity. Nonetheless, the prevailing sentiment remains largely optimistic, as DOGE continues to captivate both crypto enthusiasts and meme aficionados alike.

As the PEPE vs DOGE battle intensifies, a new contender, Big Eyes Coin, emerges as a potential Dogecoin killer. Many investors ask, "What is PepeCoin or Dogecoin capable of?" but now, Big Eyes Coin has poised itself to be the next big crypto meme coin in this industry.
With its ambitious development plans and utility, Big Eyes Coin positions itself as one of the most promising meme coins of 2023. However, time is of the essence, as its presale draws near its end. Don't miss out on the opportunity to invest in Big Eyes Coin at its attractive Stage 3 price of $0.00017. Act now and join the meme coin revolution before it's too late!
Big Eyes Coin (BIG)
Presale: https://buy.bigeyes.space/
Website: https://bigeyes.space/
Telegram: https://t.me/BIGEYESOFFICIAL
Instagram: https://www.instagram.com/BigEyesCoin/
Twitter: https://twitter.com/BigEyesCoin
Disclaimer: The views and opinions expressed by the author should not be considered as financial advice. We do not give advice on financial products.