Metadata is the "data of data"—structured data used to provide information about a resource. It can include records of a digital artwork, audio files, photographs, and animations. It identifies resources, evaluates them, and tracks changes in their use.
For example, in the case of the Moon Men collection, the metadata is the NFT's name, photo, description, and other characteristic attributes. In the case of NFT game cards, the metadata may contain attributes such as level, rarity, and quality. The data for one of the NFT metadata in the Moon Men series above shows:
  "name": "Moon Men #1"
  "description": "Moon Men is a collection of 807 community-generated NFTs rooted in utility. Contributors who receive a Moon Man can use it as a PFP of astronomical awesomeness and receive a discount on a Footprint Business Plan. There are tons of other benefits."
  "image":  "https://static.footprint.network/moonmen/nft/1.png"
Click on the "image" link to display an image of the NFT. As shown in the figure: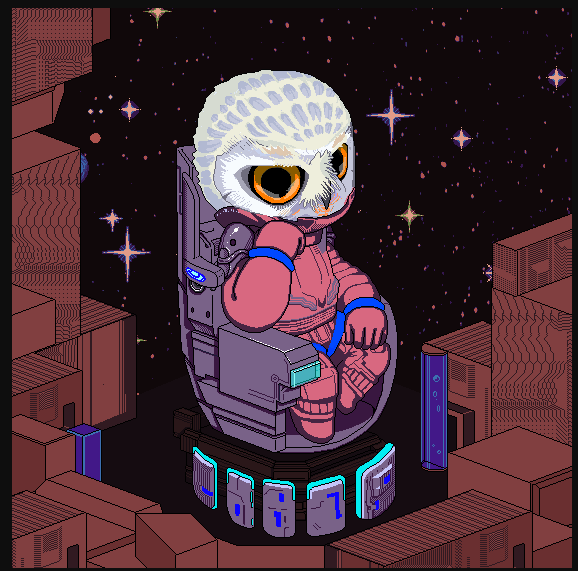 NFT from Footprint Analytics Moon Men 
Why do people store NFTs?
There are two main motivations behind storing NFTs.
To store the persistence of the NFT
NFT holders must not want to wake up and the metadata will become a "404" invalid link. Collectors want their NFTs to last forever and store data permanently at a low price.
Reduce the possibility of NFT being tampered with or stolen
We often use a protocol that starts with "http" to open a link to view content, which actually means that its metadata is stored in a centralized service. If we store an NFT in a protocol link, it may be modified at any time by the centralized institution that maintains the link, and we need to fully trust that institution not to act adversely on the NFT. 
There's also the case of hacker theft. On Feb. 1, an NFT collector's collection was stolen from OpenSea and LooksRare for an estimated loss of around $2.7 million at the time. How did this theft happen? According to the CTO of digital wallet application Zen Go, the victim mistakenly clicked on a link from a Dapp that led directly to the hacker's digital wallet.
In short, a storage protocol with high security and low storage price persistence is so important.
Where to store metadata?
Evaluate some storage protocols and storage providers:
Poor: Project website hosting, suppliers are AWS, Geocities, etc.

Good: IPFS, suppliers are NFT.storage, Filecoin, etc.

Better: Arweave, the supplier is ardrive.io

Best: Combination of Arweave and IPFS, supplier multiple
For many users, IPFS is considered to be a very good storage protocol. It stores metadata in distributed storage IPFS and follows content addressing (understood that the same IPFS protocol link is opened any number of times and the content obtained is consistent). Therefore, there is no need to worry that the purchased NFT metadata will be tampered with by the organization. However, it is rated "good" because it does not guarantee storage persistence, and its CID (Customer Identifier) is public, requiring additional measures to keep the data private.
Arweave is similar to IPFS, the main difference with Arweave is that users pay a low fee of $2.927/GB (paid in AR, dynamically calculated) to store data permanently. Metadata cannot be tampered with by centralized organizations, but there is a loss of metadata when it is corrupted.
The combined data storage technology of Arweave and IPFS emerged as a way to upload data uploaded to IPFS to Arweave and keep the data on Arweave on its own IPFS nodes. This technology enables data storage on multiple nodes and builds a more robust data retention system.
Of course, there are many other storage protocols, such as Filecoin, Storj and Sia.
What storage protocols are used by the top NFT trading platforms?
With more than 1 million active users and a total transaction volume of over $35 billion, OpenSea leads many other NFT trading markets. This further strengthens its leading position.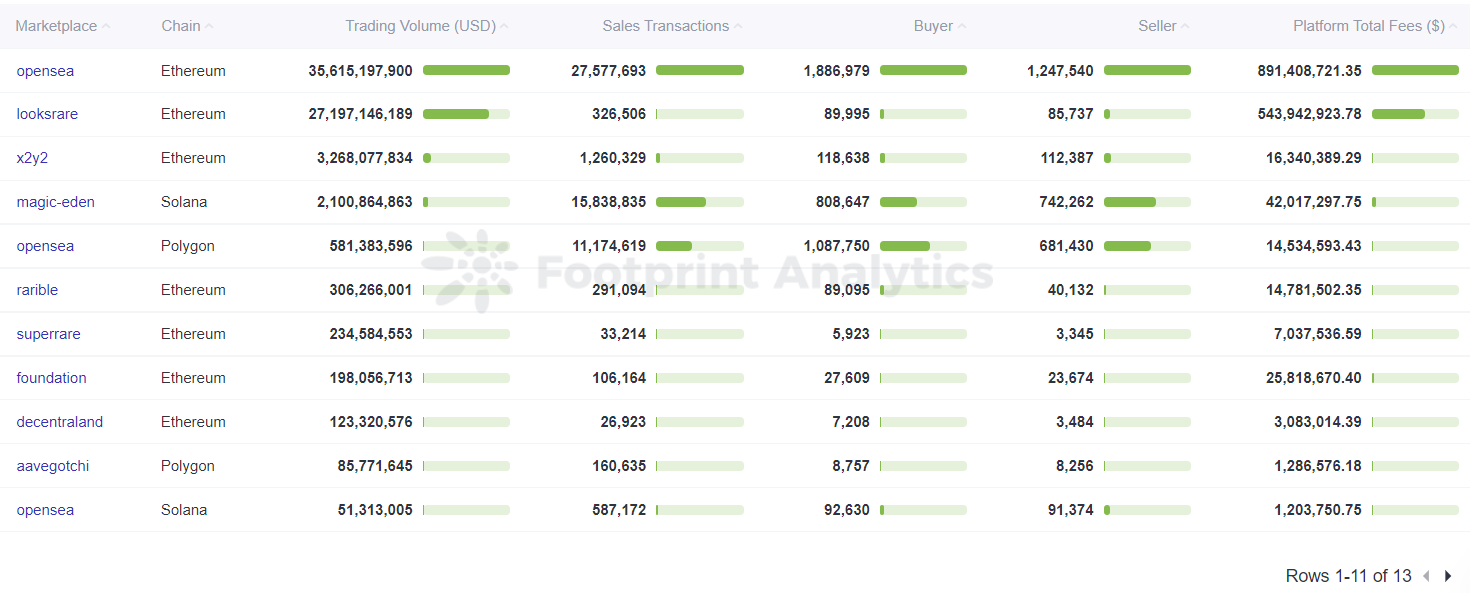 Footprint Analytics – Top Marketplaces
OpenSea has supported metadata-decentralized NFTs since its inception in 2017. It allows creators to decentralize metadata using the IPFS and Filecoin protocols. IPFS solves the addressing of content, prevents NFT data from being tampered with, and improves the persistence of content through Filecoin.
Other trading marketplaces also use content storage protocols.
Footprint Analytics – NFT Marketplace Content Storage
Summary
As all digital assets inevitably transfer to a permissionless blockchain in the form of NFTs or other tokens, how and where we store this valuable information becomes increasingly important.
Storage protocols will become an increasingly critical infrastructure element in the NFT industry. For NFT users, the security and persistence of metadata and the ability to verify the authenticity and integrity of data through metadata are particularly important, so as to reduce the provision of wrong information to users.
This piece is contributed by Footprint Analytics community.
The Footprint Community is a place where data and crypto enthusiasts worldwide help each other understand and gain insights about Web3, the metaverse, DeFi, GameFi, or any other area of the fledgling world of blockchain. Here you'll find active, diverse voices supporting each other and driving the community forward.
Oct. 2022, Vincy
Data Source: Footprint Analytics – Explore NFT Collections in Footprint
Footprint Website:  https://www.footprint.network
Discord: https://discord.gg/3HYaR6USM7
Twitter: https://twitter.com/Footprint_Data
Disclaimer: The views and opinions expressed by the author should not be considered as financial advice. We do not give advice on financial products.