At the time of writing, the Bitcoin / Brazilian Real (BTCBRL) market seems to be on a positive wave of recovery.
As it is happening with most South American countries, the number of people trading cryptocurrencies – namely Bitcoin – seems to be increasing again.
After the crash of 2018, it appears fresh cash is coming back to the market. Perhaps the actions of Brazilian regulators, making strides to level the playing field to all participants, could be bringing more people into cryptocurrencies.
In this piece I will look into the long-term behaviour of BTCBRL, as it shows new strength and a chance to hit new all-time-highs during the next couple of months.
Let's take a look at the chart!
Looking above, the trend seems to be clear: BTCBRL will eventually hit new highs.
Since mid 2015, the price of BTC measured in Brazilian Real has been exponentially increasing. After reaching a top close to $ 75,000 in late 2018, BTCBRL crashed by more than 83%, reaching its bottom around $ 12,000 in early 2019, a year later.
Since then, BTCBRL has been moving in a steady uptrend.
In June 2019, due to massive amounts of fresh Real coming into the market, BTCBRL took a huge jump, gaining more than 450% in less than six months.
BTCBRL is now consolidating above $30,000 – a sign of a healthy market.
With increased volume coming to the Brazilian cryptocurrency space, I argue it's just a matter of a few months, perhaps even before the halving, we'll see BTCBRL reaching to new all-time-highs.
The outlook of South America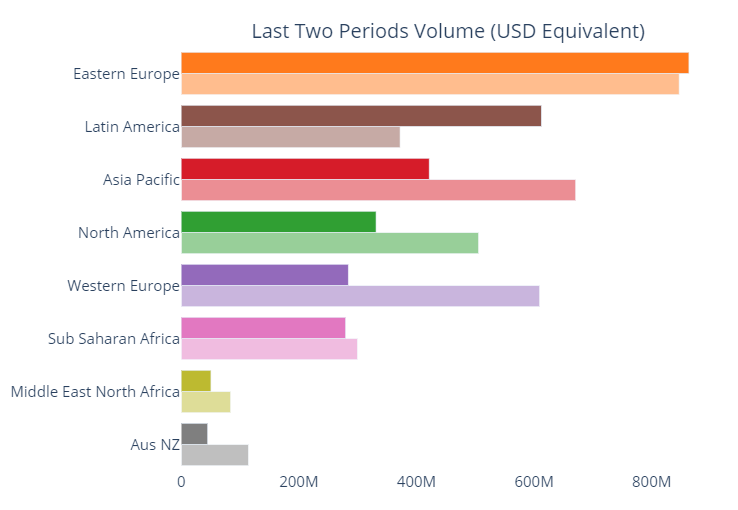 As reported last week, it's not only in Brazil where we're noticing sudden price increases and volume spikes.
Even though the graph above suggests Europe is the region where most people are acquiring Bitcoin, by comparing how much money went in to crypto vs how much came out, we clearly reach the conclusion that's not entirely true.
South America has a positive balance in excess of $200 million, while Europe remains flat. In addition, all other regions have shown negative trends over the past year, since more people are converting Bitcoin into USD than the other way around.
It seems clear to me South American populations – especially Brazil, Venezuela and Argentina – are adopting Bitcoin.
Perhaps due to having a more secure store-of-value. Perhaps to have a simple way to transfer abroad.
Whatever the reason, the more people that join the crypto-space, the better. Increased liquidity in a plurality of currencies also matters for decentralisation.
Safe trades!
Disclaimer: The views and opinions expressed by the author should not be considered as financial advice. We do not give advice on financial products.