Move-to-earn, first popularized by STEPN, was the last major trend of the bull market. While macro conditions have made it difficult for GameFi developers to build momentum, especially in an area like M2E which ended pretty badly, some projects are continuing to build.
Walken is one such project. Launched at the end of June, it is a M2E battle game based on Solana where players can gat "CAThlete" NFTs in lieu of sneakers. By sending CAThletes to fight, users can get WLKN token rewards.
What is Walken?
Walken was developed by GetFit APP, a mobile app studio with an in-house team of 50 people that has had several successful projects since 2017. 
Walken combines crypto rewards with physical activities like walking and running to improve their game character by consistently exercising or winning competitions. It encourages players to build healthier habits by competing in the game and profiting from their steps. 
Unlike STEPN, it replaces the shoes with the cute elf CAThlete NFT, and players can choose the sprint, city run and marathon modes. However, for each competition type, one specific characteristic is particularly important. The core of sprinting is speed, the core of urban running is strength, and the core of marathon is endurance. All attributes of the game character will increase with levels with "gems".
Steps taken on a real-life walk or run are converted into what are called gems in the game, with one gem awarded for every 1,000 verified steps. Gems fill the level progress bar of the CAThlete character in the game. Each CAThlete is generated from 6 randomly selected genes, and their stamina, speed and strength increase with each upgrade. The rarity of the CAThlete—Common, Rare, Rare, Epic or Legendary—affects their stats and energy pool. 

Screenshot Source – walken Website
What are the economic models of Walken and STEPN?
STEPN's governing token is GMT, which earns GST with running shoe NFTs. When a project like STEPN becomes a hit, you don't know how much longer it will go up. Despite measures like a dual-currency model and mechanisms for producing and destroying tokens, if no new users enter the market, the game enters a death spiral. 

Footprint Analytics – New Users of STEPN
As you can see from the trend of STEPN's coin price, the price continued to rise in the beginning because new users kept spending money to buy tokens to enter the market. Once there was money in the pool, GMT was in short supply and the price went up. Then the project got hotter and more users came in, and they kept changing hands, causing the price of the token to decline by the end of April.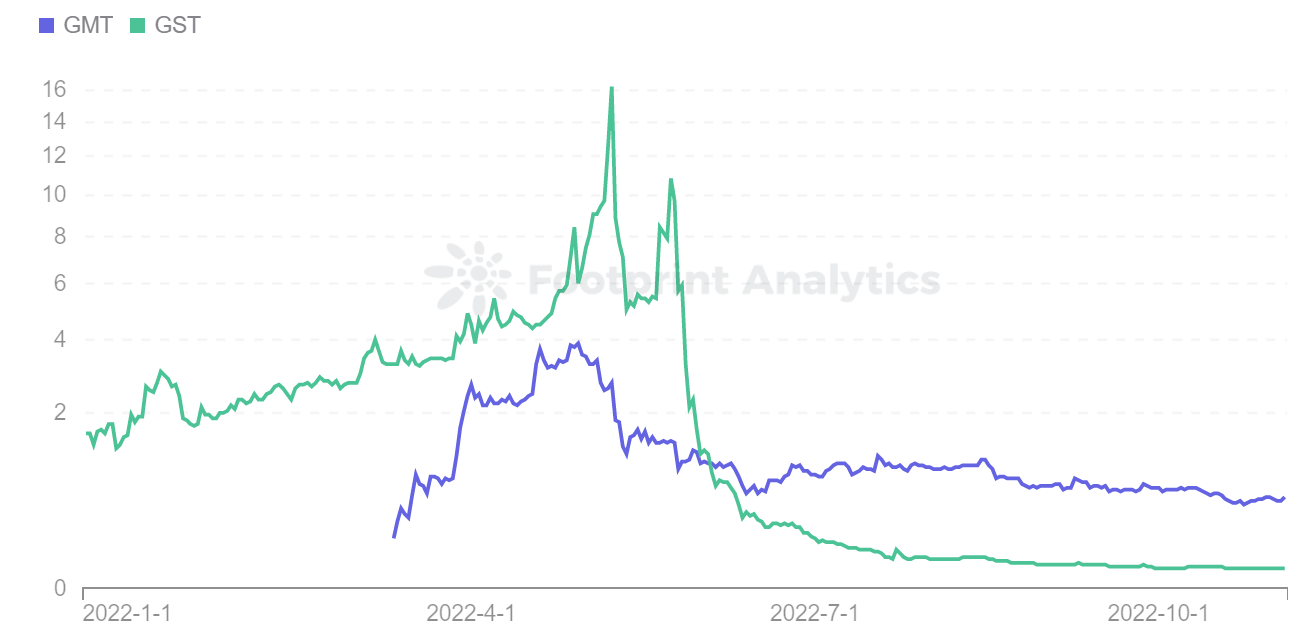 Footprint Analytics – STEPN token price
Walken also adopts a dual coin model: WLKN as the governance token and Gem obtained by walking (1 Gem for every 1,000 steps).
WLKN is the token that drives Walken's overall economic model and is mainly used to drive the in-game economy and ensure the stability of the game ecosystem.

Gems are used to upgrade CAThlete NFTs, which cannot be traded. WLKN can then be earned by winning PVP or PVE games. 
In addition, CAThlete NFTs are Walken's game characters that can be used to participate in competitions, as well as upgrade and breed.
There are 3 types of wallets in Walken: Pending, then Mysberries, and Breeding.
With WLKN in the pending wallet, players can level up their CAThletes.

Mysberries are magical berries that confer advantages in matches

With breeding, each CAThlete can be multiplied into another.
Footprint Analytics can assess activity in all three types of wallets.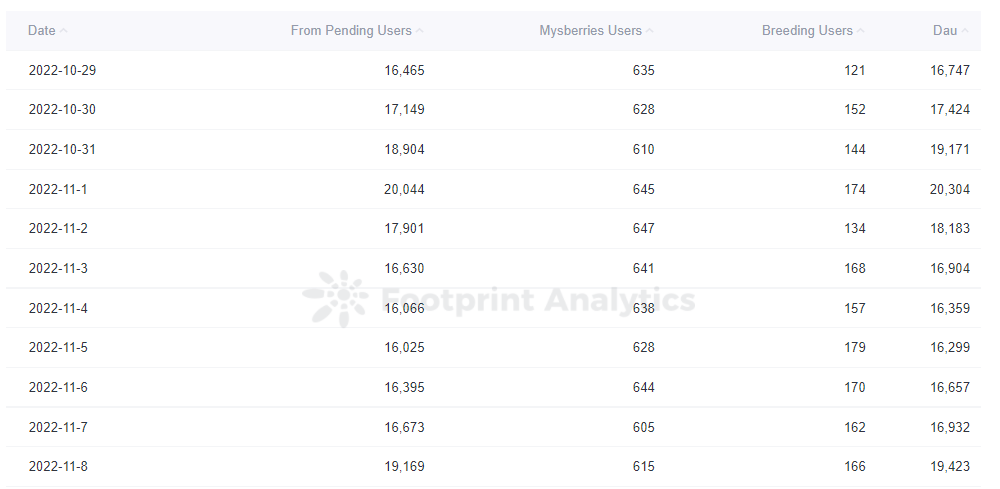 Footprint Analytics – Active Wallet Address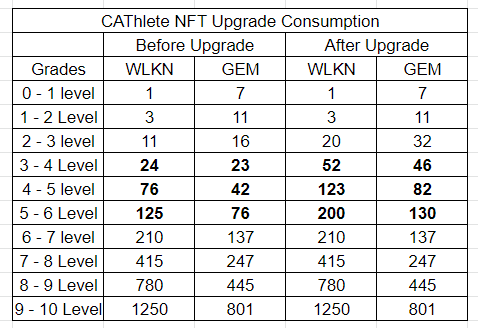 CAThlete NFT Upgrade Consumption
However, with an average of 10,000+ active users per day, Walken's token price failed to rise as much as the number of users, but could stabilize at around $0.051. The rapid drop of the coin price from the launch to July 6 is related to its game upgrade rules (need double gems and WLKN to upgrade to level 4, 5 and 6). So, this move also had some impact on the project's token price.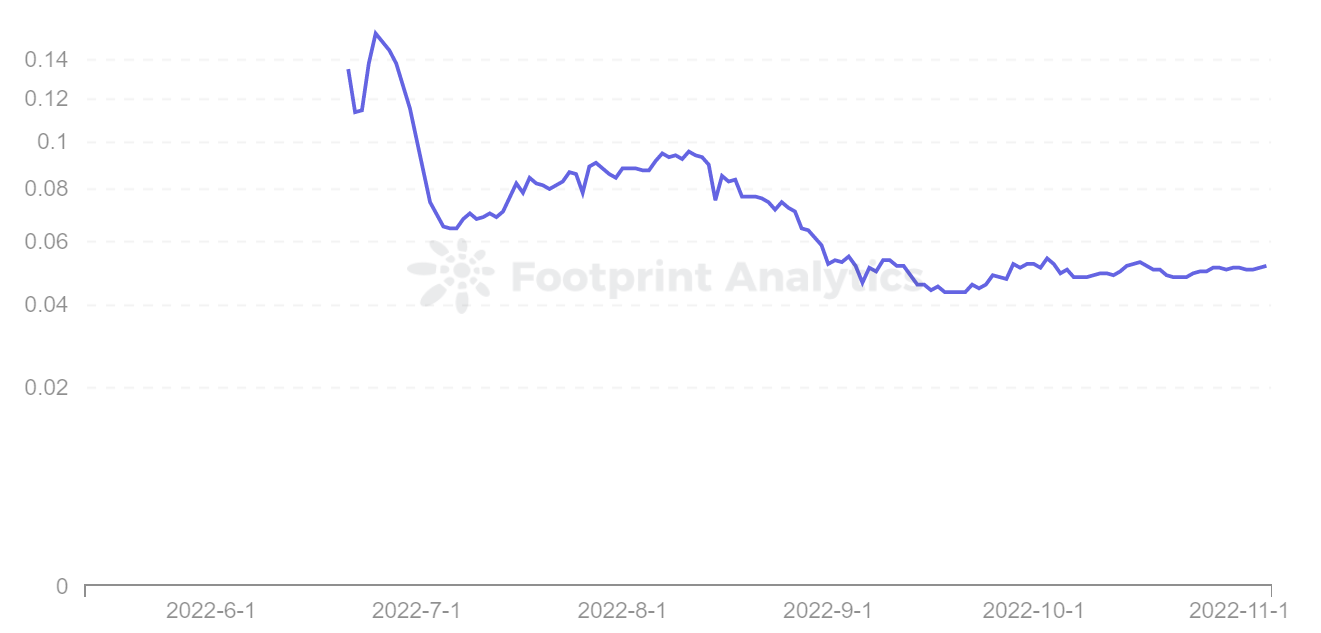 Footprint Analytics – WLKN token price
Summary
With a similar gameplay to STEPN, Walken is the second major blockchain project to attempt M2E. 
Being in a bear market, Walken and its economic model has yet to be tested like STEPN's. Furthermore, the playability of Walken is relatively weak, as the rules and game mechanics require users to continuously upgrade their NFTs to continue. Furthermore, the game determines victory and defeat is opaque, resulting in uncontrollable revenue for players. 
This piece is contributed by Footprint Analytics community.
The Footprint Community is a place where data and crypto enthusiasts worldwide help each other understand and gain insights about Web3, the metaverse, DeFi, GameFi, or any other area of the fledgling world of blockchain. Here you'll find active, diverse voices supporting each other and driving the community forward.
Footprint Website:  https://www.footprint.network
Discord: https://discord.gg/3HYaR6USM7
Twitter: https://twitter.com/Footprint_Data
Disclaimer: The views and opinions expressed by the author should not be considered as financial advice. We do not give advice on financial products.