xSPECTAR is a revolutionary new Web3 project designed to empower content creators and entrepreneurs who want to tap into the power of blockchain technology. By using its Unreal Engine 5-powered Metaverse, called the xSPECTARverse, based on the XRP Ledger (XRPL) blockchain.
As the most exciting project to come to XRPL, xSPECTAR is building the inside track for people entrenched in the Web3 space looking to expand its reach and impact on the world. The project's flagship product – the xSPECTARverse – features realistic-looking nonfungible token (NFT) avatars and multiple practical use cases in social, educational, business, and gaming realms.
xSPECTAR CEO and founder Dirk Schepens feels that this is the most ambitious project he has ever been a part of, and has been working day and night with the talented team behind him to ensure that the pre-mint and all the following releases are launched without a hitch.
With so much to offer, xSPECTAR is ready to set the XRPL ecosystem on fire. Also, now that the pre-mint period is finished, let's dig into what the project has in store!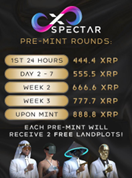 Pre-Mint Day 2 – 7
The Pre-mint phase for xPSECTAR NFTs is currently under way! While the first 24 hours is complete, where pre-minters could grab an NFT for just 444.4 XRP, the second cheapest round will last from day 2 to 7. In this round, a pre-mint will cost 555.5 XRP tokens.
Prospective pre-minters are urged to hurry to the xSPECTAR website to lock in their agent NFT ASAP because 50% of the mint is now SOLD OUT. Visit the pre-mint page here.
The NFT collection has a number of use cases. First, pre-minters have found that the NFTs grant them two free plots of land in the xSPECTARverse.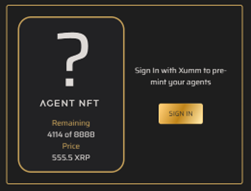 Also, NFT holders will always have first access to new functionalities in the Metaverse.
xSPECTAR Genesis NFT Avatars
The Genesis NFT collection from xSPECTAR was designed by a Dutch entrepreneur specializing in hyper-realistic human renderings.
Genesis collection NFTs can be used as an individual's avatar in the xSPECTARverse, which identifies them to any other user of the platform. Users are sure to find one (or two!) agents that match up well with their personality.
Admire the unique details each NFT has to set them apart from any other collection. Their rich colors, dynamic background, and realistic human features are unlike any other NFT!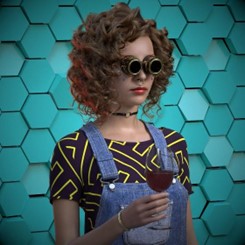 The xSPECTARverse
The xSPECTARverse caters to a wider array of blockchain and NFT enthusiasts than any other metaverse platform. The capacity for social interaction on the platform will remain very close to reality as it increases the ability for individuals to engage with each other.
xSPECTARverse provides users, who can use agent NFTs as avatars, equitable access to digital services by allowing them to disregard elements like time, place, and scale.
Like the NFT avatars, the xSPECTARverse boasts dazzling color schemes, attention to fine detail to make it feel real and futuristic, and a unique vibe unlike any other metaverse platform.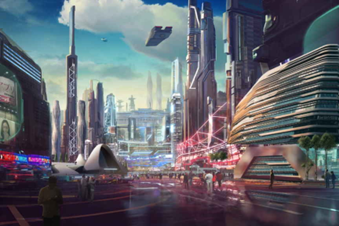 Digital businesses are expected to increase in proportion to the time spent online by users across a vast set of real-life services and experiences. As Metaverse platforms proliferate and create an intersection between technology and social change, businesses are already building their digital use-case models to satisfy the changing scope of future consumption.
The xSPECTARverse is ready to allow stakeholders to take advantage of that rising wave by improving conditions for content creators. The greater capacity for communication between stakeholders ensures this. It also can be home to an unlimited number of digital collectibles and their marketplaces. Subsequently, digital advertising and sales can proliferate far faster than anywhere else.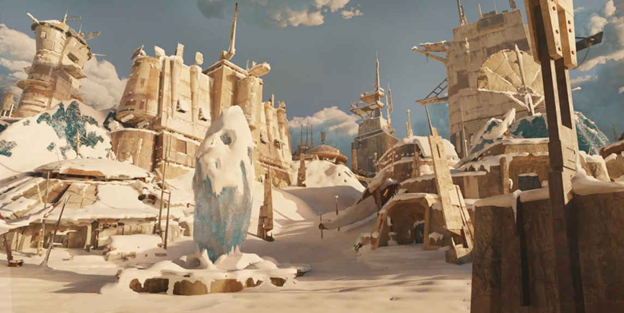 Furthermore, xSPECTARverse will be opened to game developers to be used as a base for their games.
Project Milestones
In just a few short months, the xSPECTAR project has tallied up a number of notable achievements including irl meetups orchestrated through its formidable social media presence and expects many, more. Within 6 months, our team believes our project can dominate the XRPL ecosystem.
The following is the journey xSPECTAR has taken to be able to bring you this amazing pre-mint opportunity!
XSPECTAR token sale began on Apr 20, 2022
The Top Level Domain (TLD) name .xspectar was obtained on Apr 23, 2022
The first IRL meet and greet in New York for xPSECTAR held on May 15, 2022
XPSTECAR token listed on Bitrue May 31, 2022
The xSPECTAR brand trademark application was submitted on Jun 11, 2022
xSPECTAR IRL launch party in Belgium took place on Jun 12, 2022
xSPECTAR token was listed on Bitmart on Jun 19, 2022
Token listing on MEXC: Global exchange happened on Aug 8, 2022
A major milestone – Our FULL HISTORY NODE was obtained on Aug 27, 2022
xSPECTAR reached 38k+ followers in October
What will the future hold for xSPECTAR? Follow us and find out!
Conclusion
The pre-mint phase day 2 -7 of the xSPECTARverse Genesis NFT collection is underway! You need to hurry to the website to secure your chance at receiving one when the collection is released.
Each agent can be used as an avatar in the xSPECTARverse and will grant holders access to many benefits such as future airdrops and exclusive content.
Follow xSPECTAR across its social media channels to stay up to date on all the latest news regarding the project!
Website: https://xspectar.com/
Twitter:  https://twitter.com/xspectar
Instagram: https://www.instagram.com/xspectar/
Discord: https://discord.gg/xspectar/
Whitepaper V2.0 – https://xspectar.gitbook.io/xspectar-whitepaper-v2/
Disclaimer: The views and opinions expressed by the author should not be considered as financial advice. We do not give advice on financial products.