Zcoin has seen its price double on the news that its native XZC token is now spendable via the PolisPay MasterCard.
Spend your Zcoin $XZC with PolisPay's Mastercard®!

Zcoin recently got integrated with multi-currency wallet @polispayapp. Using their debit card, you can now use Zcoin to pay wherever Mastercard® is accepted and even withdraw cash from ATMs! https://t.co/AXB9F3qxJO pic.twitter.com/ngpaETc4KD

— Zcoin (@zcoinofficial) March 12, 2019
The news sent the token price 'mooning' from under $6 to over $12 in just a few hours. Trading volume looks to have broken out along with the price as well. Prior to the initial pump, Zcoin trading volume was around $200,000 to $300,000 an hour, but after the price started its move up, volumes have skyrocketed close to $20 million an hour.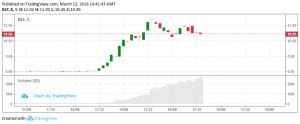 The project's new partnership with PolisPay appears to be behind the spectacular move.
Founded in 2017, the company aims to make cryptocurrencies spendable everywhere. The project is looking to achieve this with its "MasterCard debit card backed by a multi-currency crypto wallet to which Zcoin has now been added".
Privacy-focused
Zcoin is a privacy-focused project that uses the Zerocoin protocol. This protocol works by using zero-knowledge proofs to enable scalable privacy for the Zcoin blockchain. Zcoin has also integrated Tor to hide your IP address when broadcasting a transaction on the network.
In December last year, Coin Rivet brought you the story of how Zcoin is implementing a new mining algorithm to move mining hash power away from large-scale ASIC operators on its Zerocoin protocol.
First coin on PolisPay
Zcoin is one of the first coins to be integrated with PolisPay during its open beta phase. The news seems to be the only major catalyst for the price movement that has seen the project gain over $20 million in market cap over the course of a couple of hours.
The team concluded that "using this card, you can now spend Zcoin anywhere MasterCard is accepted as well as use it for cash withdrawals at ATMs".
For more news, guides, and cryptocurrency analysis, click here.