Bitcoin is currently testing a crucial level of resistance following a woeful month that saw it lose 16.19% of its value.
At the time of writing it was trading at $38,300 having momentarily lifted itself above $39,000 this morning.
Bitcoin bulls will be hoping for a clean break above the psychological level at $40,000, although it's worth noting that short interest will be high as traders attempt to predict a gruelling lower high.
The world's largest cryptocurrency remains in a downtrend on all time frames. However, a relief rally is expected this month as throughout Bitcoin's history it has only painted four red monthly candles in a row on one occasion – during the 2018 bear market.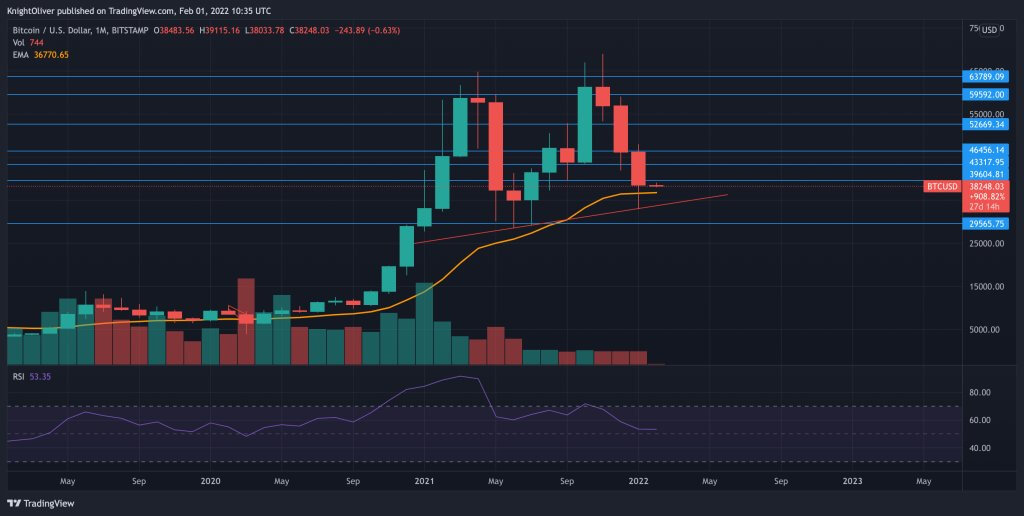 Since Bitcoin formed an all-time high of $69,000 in November, it has lost more than 44% of its value as the hype around the previous bull cycle rapidly erodes.
Google searches for "Bitcoin" are 50% lower than last May, indicating that retail participation in the market has dried up.
This is in a stark contrast to NFTs, which have surged by 400% since September as investors look for faster and more hype-fuelled gains instead of Bitcoin.
From a technical perspective, Bitcoin has an important area of support between $39,000 and $40,000. If this area gets taken out it should set itself up for a rally to at least $43,000.
However, if it fails to make ground at this level, it is expected to slump back into the previous range between $36,400 and $37,300.
For more news, guides and cryptocurrency analysis, click here.
To purchase Bitcoin, Ethereum, Litecoin or USDC, sign up to Coin Rivet's cryptocurrency broker here.
Bitcoin pricing
Current live BTC pricing information and interactive charts are available on our site 24 hours a day. The ticker bar at the bottom of every page on our site has the latest Bitcoin price. Pricing is also available in a range of different currency equivalents:
US Dollar – BTCtoUSD
British Pound Sterling – BTCtoGBP
Japanese Yen – BTCtoJPY
Euro – BTCtoEUR
Australian Dollar – BTCtoAUD
Russian Rouble – BTCtoRUB
About Bitcoin
In August 2008, the domain name bitcoin.org was registered. On 31st October 2008, a paper was published called "Bitcoin: A Peer-to-Peer Electronic Cash System". This was authored by Satoshi Nakamoto, the inventor of BTC. To date, no one knows who this person, or people, are.
The paper outlined a method of using a P2P network for electronic transactions without "relying on trust". On January 3 2009, the BTC network came into existence. Nakamoto mined block number "0" (or the "genesis block"), which had a reward of 50 Bitcoins.
More BTC news and information
If you want to find out more information about Bitcoin or cryptocurrencies in general, then use the search box at the top of this page. Here's an article to get you started.
As with any investment, it pays to do some homework before you part with your money. The prices of cryptocurrencies are volatile and go up and down quickly. This page is not recommending a particular currency or whether you should invest or not.
Disclaimer: The views and opinions expressed by the author should not be considered as financial advice. We do not give advice on financial products.