The London Hard Fork event and the highly-anticipated introduction of EIP-3554 at the start of August has driven a massive surge in Ethereum network chain activity with a 9% increase (by measure of daily gas usage).
This significant uptick in network usage has marked the first noteworthy rise in Ethereum chain activity in more than four months, with many attributing the 9% rise to EIP-1559, which has simplified and eased the transactional costs (gas fees) charged by the network.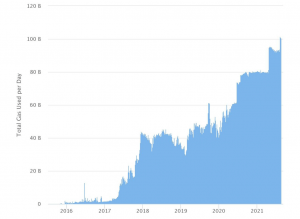 Data on gas usage amount is a key pointer indicating an increase in the traffic the Ethereum network can handle, therefore this latest data from EtherScan has excited the Ethereum community.
Ethereum Network visionary Vitalik Buterin revealed his explanation for the network activity increase in a detailed explainer posted online.
Buterin argued the concessionary EIP-3554, which served the sole purpose of delaying the impending Ethereum network difficulty rate bomb has driven the stabilisation of mining time to a consistent block mined every 13 seconds across the decentralised network.
EIP-3554 received widespread accusations of being a bid to bribe Ethereum miners into passing EIP-1559 (a controversial key EIP). Matthijs de Vries, co-founder and CTO of AllianceBlock, was keen to support this position.
"Miners definitely benefit from having this difficulty time bomb delayed long enough until Ethereum 2.0 is finished, they decided to tie EIP-1559 to EIP-3554 as an incentive to accept EIP-1559 in order to continue building Ethereum 2.0," he explained.
Vitalik Buterin also provided a second rationale, citing the presence of more unused block space prior to the London Hard Fork upgrade.
The maximum gas used setting then represented 15 million, but a significant percentage of the target block remained untouched, amounting to large unused gas which could be put to work.
More crypto news and information
If you want to find out more information about Bitcoin or cryptocurrencies in general, then use the search box at the top of this page. Here's an article to get you started.
As with any investment, it pays to do some homework before you part with your money. The prices of cryptocurrencies are volatile and go up and down quickly. This page is not recommending a particular currency or whether you should invest or not.
Disclaimer: The views and opinions expressed by the author should not be considered as financial advice. We do not give advice on financial products.