A year of economic turbulence has sunk the Turkish Lira to new lows, and retail investors across Turkey (now Turkiye) are racing into cryptocurrencies in a desperate race to protect their savings from drastic devaluations.
President Tayyip Erdogan has revealed that a cryptocurrency bill is prepared and ready to be presented to the Grand National Assembly (Turkey's legislative chamber), and some analysts have been quick to allege that it is partially in response to significant capital outflows into digital assets such as Tether and Bitcoin.
But the crux of the issue rests in the (in)stability of the Lira – bleeding out 40% of its value this year – something halted only for a fleeting moment by a promised currency support package earlier in December.
The Lira's perilous downturn can be directly attributed to a combination of continual cuts to interest in face of a uncurtailed covid-fuelled inflation rate, a knife in the back of an economy recovering from a 2018 debt crisis.
Erdogan's plan involves the Turkish state indexing Lira deposits to protect them against future decline relative to hard currencies via state-backed reserves. The hope is to reassure citizens and stem the flow of capital fleeing the national currency.
This move briefly halted downside pressure for the Lira as markets felt reinvigorated by the increase in citizen's purchasing power.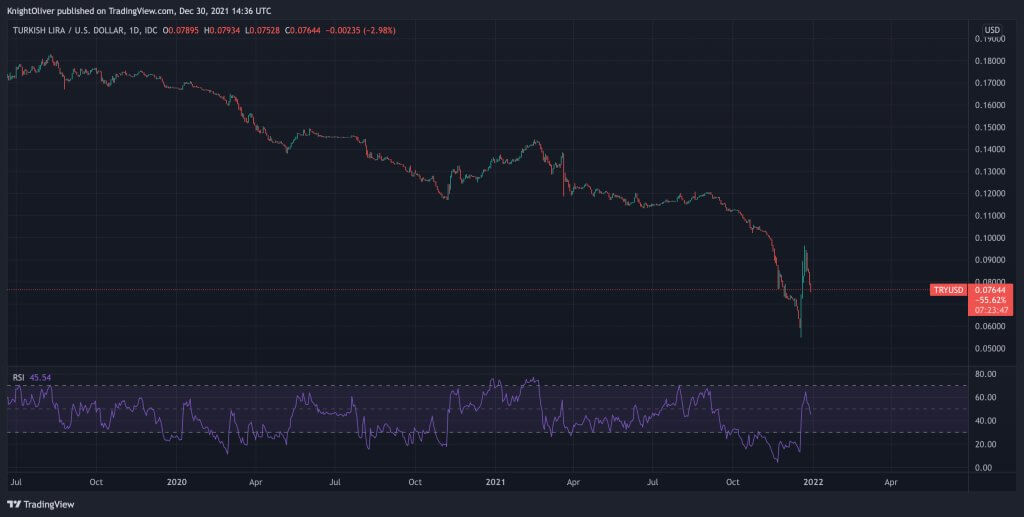 However, the fickle reality of a 30% month-on-month inflation rate alongside a drastic imagining of the fiscal debts required to sustain the deposit protection scheme quickly smacked the Lira back down to new all-time lows.
What could Erdogan's crypto bill have in store?
Surprisingly, there is a palpable air of optimism about the legislation amongst the Turkish crypto community, analysts at Blockworks have been quick to highlight that there has been no significant divergence between Lira and stablecoins such as Tether – with the value still tracking USD – suggesting that there has been no flight of capital out of crypto on local exchanges.
This is reassuring for crypto markets, and would suggest that the bill is likely to offer a favourable crypto regulatory regime that will ensure investor protections (and more importantly for Erdogan – formalise taxation rules and monitoring) – it could even take aim at creating attractive conditions to lure in the lucrative digital asset economy.
All of this would be a remarkable twist of fate – earlier this year the President declared 'We are at war with Bitcoin'.
But far from a change of heart, it is likely that the regulations have been carefully designed to lay the foundations for a so-called Digital Lira, which forms a key part of Turkey's current economic development framework (an attempt to get back in track by 2023).
In order to introduce the planned CBDC, first and foremost, it is necessary for the Central Bank of the Republic of Turkey to be granted the powers to exercise in the digital currency space. This is likely to inform the structure and undertone of any legislation passed, behind the guise of investor protections, taxation, and capital outflows.
Disclaimer: The views and opinions expressed by the author should not be considered as financial advice. We do not give advice on financial products.