Universal payments and rewards ecosystem Mobie has integrated Chainlink Price Feeds to accurately display current fair-market exchange rates in the MobiePay app.
The integration will help users on the application "make sound decisions when making payments and reviewing their holdings" and brings the trusted and accurate data provided by Chainlink to the platform.
The Mobie platform is a "universal payments and rewards ecosystem" that is focused primarily on providing businesses and consumers with an array of benefits when using it.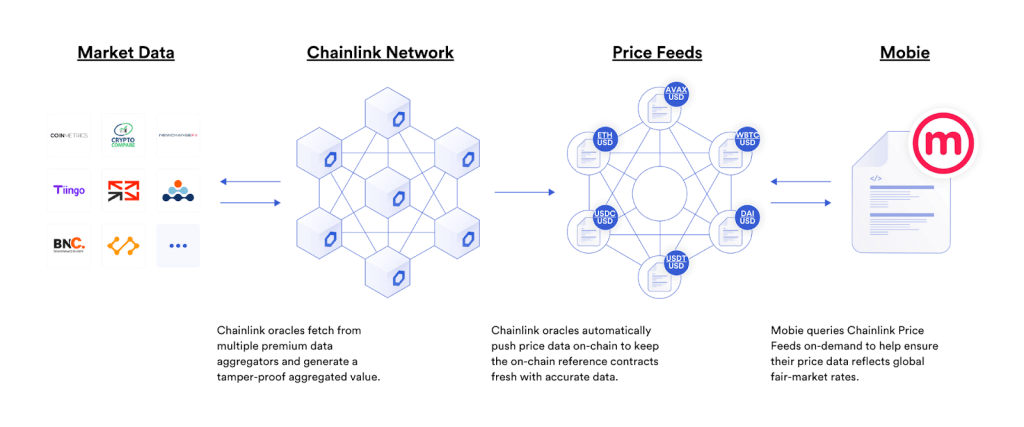 Through Chainlink price feeds – which now secure over $75bn in value – Mobie has access to the vast array of high-quality, reliable data sources available through Chainlink Oracles, which is then fed into the network and output as on-demand data throughout the expansive Mobie Network.
Mobie's CEO and founder, Brandon Burgason, also revealed the platform plans to incorporate further products into its service as it expands, including additional price feeds and Proof of Reserve.
"Unlike other market data solutions, Chainlink Price Feeds are transparent and resistant to single points of failure, helping ensure MobiePay displays accurate prices during periods of extreme market volatility," he said.
"As we continue expanding our platform, we will also look to integrate other services, such as additional Chainlink Data Feeds and Chainlink Proof of Reserve for enhanced platform functionality."
Mobie Network, the platform "Building Mainstream Products with Blockchain", features an array of products for users including a swap feature and a bridge for its native token, MobieCoin (MBX).
Disclaimer: The views and opinions expressed by the author should not be considered as financial advice. We do not give advice on financial products.